Did you know you can earn interest on the Coins in your Cointiply account? It's easy to set up, and we'll explain how.
How to Enable Interest on Your Cointiply Balance
To enable interest, go to the Settings tab on your Dashboard, or (User Menu > Settings/Premium), as shown in the image below: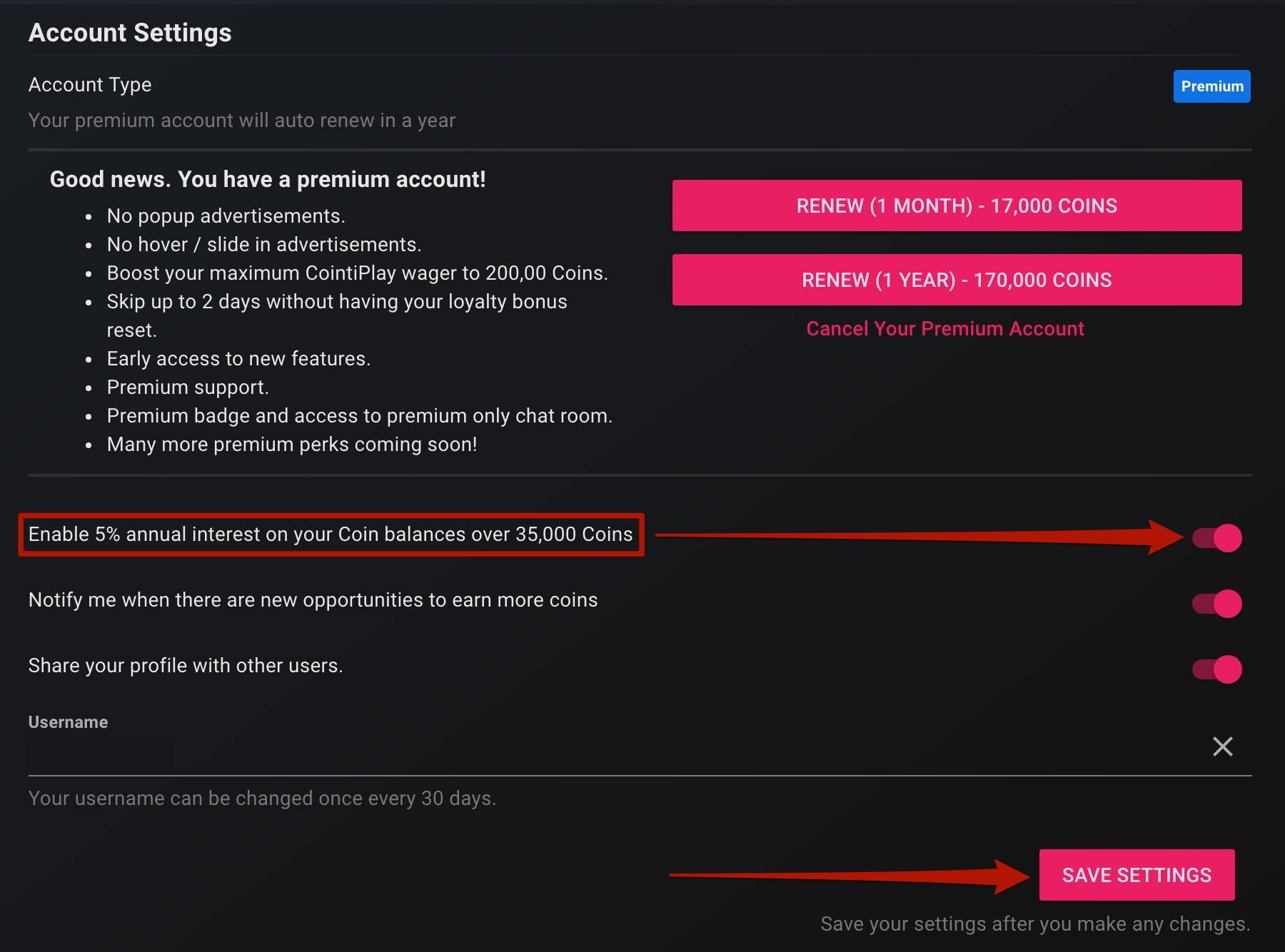 Cointiply Settings
We've highlighted the interest option in the screenshot. Simply toggle the switch on the right side to turn it on. If it's pink, it's on. When you are finished, make sure to click the Save Settings button at the bottom. If for any reason you do not want to earn interest, you can leave it off or turn it off any time you wish.
How Many Coins Do I Have to Have to Earn Interest?
To qualify for 5% interest on your Cointiply balance you must maintain an average balance of at least 35,000 Coins for each week. Weeks run from Monday GMT to Sunday GMT time. You must also make at least one successful claim on your account, either the faucet, an offer, or a video game. If you have enabled interest, but didn't receive a payment, it's because you didn't meet one or more of those conditions.
When Does Cointiply Pay Interest?
We pay out interest on Sundays, but we don't specify the exact time.
Where Can I See Interest I Have Earned?
All interest payments are recorded in your main Cointiply activity feed. You can filter your activity feed to show only interest payments by selecting "Interest" from the filter menu. On the withdrawal page you can also see your "Total Interest Earned" near the top of the page. More advanced reporting will be available in the future.
How is Interest Calculated?
Interest is calculated using an annual interest rate of 5% paid out once a week based on your average daily balance. For example, if you have 100,000 Coins for a 1 week period you will earn 99 Coins interest for that week (100,000 * 0.05126 / 52.14).
Why Does Cointiply Pay Interest?
The first thing to know is that Cointiply is not trying to be a bank. We offer interest as a courtesy to our members, many of whom don't want to constantly move their Coins (or cryptocurrency) around. We aren't trying to earn money off of your balance, and we aren't doing anything silly like trying to invest it somewhere. The interest we pay is simply baked into our cost of doing business.